Jamie's Phuket : Best of 2012
Another year! 2013 is upon us, the world did not end, the future is bright. I hope everyone has had a good 2012, had some good times. The year for me in Phuket - busy! I admit to struggling to find time for blogging especially later in the year. Please remember this Phuket blog is a hobby, as I am working as manager of Sunrise Divers, and also have a wife and kids, so can't be on the computer every free moment! Sometimes I get a does of blog fever and make sure we get out and do new things. Sometimes I have a day off and we stay home, do the garden and maybe head out for dinner to a favourite restaurant. Must make sure we try some new places to eat in 2013 for the blog, and for our taste buds! Actually, looking back, 2012 was a good blogging year. We did get out and explore, especially in Phang Nga (north of Phuket) and we also had a couple of holidays out of Phuket visiting Hua Hin, Chumphon and Suan Phung. Might be a struggle to fit the "best of" onto one page, but here goes!
January 2012
Though I knew all the interesting
temples
in Phuket, but found one that I had never visited, at
Wat Khao Rang
in Phuket Town, featuring a big golden Buddha statue....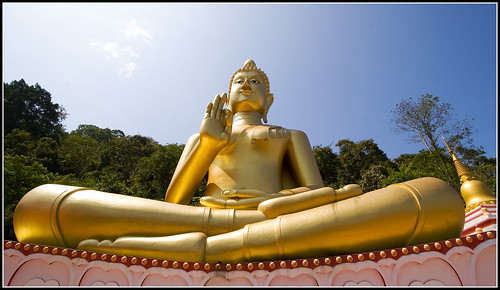 (above) Big Buddha statue at Khao Rang Temple
Also blogged about the new
mini golf
place at Bang Tao Beach, which we visited with the kids on Christmas Day 2011 (and have meant to go again since, but had no time).
(above) Mini Golf near Bang Tao Beach
February 2012
A month writing on the blog about recent fairs and festivals, with Chinese New Year being on 23rd January, I stopped a couple of times to get new photos at the annual
Chalong Temple Fair
which is always held around Chinese New Year.
(above) Chalong Temple Fair
And then I wrote about the
Phuket Old Town Festival
which had been held from 28 - 30 January.
(above) Fire dancer during the old town festival
March 2012
Exploring in Phang Nga province, which is north of Phuket, just over the bridge. Phang Nga is mostly very rural. We found a great restaurant called
Tha Sai Seafood
, also visited a very interesting temple called
Wat Thamtapan
and a beautiful little forest park with waterfalls -
Sa Nang Manora Forest Park
.
(above) View from Tha Sai Seafood and a waterfall at Sa Nang Manora
And later in March, with the kids on school holidays and visiting inlaws, I did some exploring on my own including the
Phuket Seashell Museum
and (on a walk in Phuket Town) I was invited into a
Sikh Gurdwara
for a look around.
(above) Phuket Seashell Musem and the ceiling of the Sikh Gurdwara in Phuket Town
April / May 2012
We had a holiday out of Phuket for a couple of weeks including visiting my wife's family in
Chumphon
. Meanwhile in Phuket, thanks to the Bumrungwong family for letting me snap photos at the
Old Herb Shop
in Phuket Town
(above) At the old herb shop in Phuket Town
And (inspired by the earlier visit to Khao Rang temple) I wrote about the
"Big Buddhas" of Phuket
. There's more than one!
(above) Big Buddha at Sri Sunthorn temple
Old Phuket Town
is getting better year by year as people who live and work there put some effort into the area. There are now several roads without the usual ugly electric wires overhead, and I am always happy for a little walk in old town.
(above) Dibuk Road in old Phuket Town
June 2012
I meant to write about the
Indy Market
before, as we go quite often. It's in Phuket Town on Thursday and Friday evenings. Also on the blog in June, a bar/restaurant that has become a favourite -
Route 68
, on Thalang Road in the old town.
(above) Indy Market and Route 68
And we very much enjoyed watching
Phuket FC
one evening when our son was chosen as one of the team mascots to go out on the pitch with the players. And Phuket won the game 8-1 :)
(above) At a Phuket FC game
July 2012
A busy month for blogging! Our explorations into Phang Nga continued with a visit to the very impressive temple at
Wat Bang Riang
. I also got round to blogging about
Khao Sok National Park
, which we'd actually visited back in May - one of our favourite places.
(above) At Wat Bang Riang, Phang Nga
(above) On the lake at Khao Sok
Found a groovy new bar with great views south of Kata beach -
Sabai Corner
, great place for a sunset beer or a few, and I hear that the owner now has a few bungalows open too.
(above) Sabai Corner Bar
And I "reblogged" a couple of things. The blog has been going since 2006, so some of the older posts are out of date and photos tend to be better now. Sometimes I update a few old blog posts every week, sometimes write completely new blog posts such as the posts in July about the
Gibbon Rehabilitation Project
and
Wat Kathu temple
.
(above) Wat Kathu Temple
August 2012
One of may favourite days of the year - a trip over to
Koh Yao Noi island
, east of Phuket. It's small, quiet, has great views .. next time we plan to stay a night.
(above) Exploring Koh Yao Noi island
And then some street culture! The 4th annual
Kathu village street festival
was held in August. Kathu is the area of Phuket where I live. The 3 day festival featured lots of food and street performances and a big street parade on the first evening.
(above) At the Kathu Festival
And some street food! I finally blogged about the well known Abduls Roti Shop in old Phuket Town. Roti with curry for breakfast. Yum!
(above) Abdul's Roti with curry
September 2012
There are some well known festivals in Phuket and some smaller festivals. The
'Por Tor' (Hungry Ghost) festival
is one that I never investigated until last year. Well, in 2012 I saw a lot more. We all went to the Por Tor Kong shrine in Phuket Town that is the center of events to say prayers and donate a red turtle cake for the ghosts.
(above) Por Tor Festival
More food! My wife introduced me to a tasty dish called
Khao Yam
, a kind of salad made with rice and herbs, popular in south Thailand and a new restaurant opened not far from our house doing Khao Yam and also some good dim sum.
(above) Khao Yam
October 2012
In late September / early October we were on holiday for a couple of weeks, I might write something about the Hua Hin trip sometime! Also during the holiday we had an overnight trip to
Racha Yai (Raya) Island
about 20km south of Phuket - a place I have dived many times, but this was the first time I'd set foot on the island in all these years.
(above) Fun for all the family at Racha Yai
And then one of my favourite festivals - the
Phuket vegetarian festival
was from 14th - 24th October. A photo fest! I visited several shrines in the early morning to watch face piercing rituals, and also some day time and evening street processions. It's a bizarre and fascinating time of year.
(above) Phuket Vegetarian Festival 2012
November / December 2012
What are the best hotels in Phuket? Well, over the year I have added a bunch of pages which show "Top 10" lists based on TripAdvisor rankings. Started with a simple
Top 10 Phuket Hotels
list back in February, but in the last 2 months there have been several useful hotel posts :
•
Top 10 Family Hotels
•
Top 10 Luxury Hotels
•
Top 10 Value Hotels
Hope those are useful! We've been a bit lazy recently, not many days out - certainly no holidays, as it's high season. Kids often have music lessons or Taekwondo at the weekend, so we might not always do much. I did "reblog" the
Bang Pae Waterfall
in November. We combined a visit there with lunch at
Bang Rong
, a regular favourite restaurant.
(above) Bang Pae Waterfall
And we tried a new restaurant just recently - a floating seafood restaurant called
Bang Mud
, on the east coast of Phuket. Got to try more restaurants next year! Especially if I finally bite the bullet and buy an iPhone, which will mainly be used to take photos of my lunch.
Even if things aren't blogged, please do follow me on
Twitter
for Phuket updates. And latest photos are on my
Flickr
account.
Here's a fun photo to end 2012. Yesterday we went for a little drive, took a walk across
Sarasin bridge
that joins Phuket to the mainland, and then had a drink and cake at the
360 Degree Cafe
which is just a few km into Phang Nga. Here's our boy on a big swing at the cafe ...
Let's see what 2013 brings. Happy New Year from Phuket!
---
You have been reading : Jamie's Phuket : Best of 2012
Looking For More? Search Jamie's Phuket Blog ...
Search Here For Your Phuket Hotel ...