Exploring Phang Nga Province
Phuket is an island, more or less ... it is surrounded by water, but is connected to the mainland by the
Sarasin bridge
- well, Sarasin bridges actually ... there are now 3 spans across the 500m gap between Phuket and Phang Nga Province which lies on the other side. The first bridge was only built in 1967 and 2 more have been built in the last 20 years to allow a bridge for traffic each way, while the oldest bridge is now for pedestrians and is a popular evening walk for locals.
Phuket is not just an island, it's a province of Thailand in it's own right, albeit the smallest! The total area of Phuket is less than 600 square kilometers including smaller offshore islands. Over the bridge is Phang Nga province, with an area of over 4000 square kilometers. Sometimes it feels like we have explored every inch of Phuket, and driving over the bridge seems like a big day out! We have spent many days exploring Phang Nga and I noticed that the Phuket Blog now has over 20 pages relating to places in the neighbouring province, so this blog post is a way to tie everything together. Tempted to start a "
Jamie's Phang Nga
" blog actually, but not yet. Everything on this page is within a few hours drive of Phuket. With favorable traffic we can be over the bridge into Phang Nga in 45 minutes. There's plenty yet to be found, but here's what we know of Phang Nga province so far.
Phang Nga Bay
First on the list ... Phang Nga Bay including
James Bond Island
and
Koh Panyee village
, with limestone karst islands and beautiful scenery .. this has to be on most tourists "to do" list, which means avoiding the crowds can be tricky! We have that figured out now - just get there late when all the standard tours are on the way home. Read more :
Phang Nga Bay - Doing It Our Way!
(above) James Bond Island
(above) Koh Panyee Village in Phang Nga Bay
You can book tours like this with my friends at
Easy Day Thailand
.
Restaurants in Phang Nga
I am sure there are plenty more, but here's a few restaurants and cafes that we like in Phang Nga .... I am not suggesting a drive all the way just for lunch, but in combination with visiting other attractions, one of these places should hit the spot. Our favourite I would say is
Tha Sai Seafood
, which is quite a drive, past Phang Nga Town and on the way towards Krabi. Great food and a great view!
Another one by the water is
Samchong Seafood
(below), from where we have hired longtail boats a few times to head out into Phang Nga Bay. We heard that it gone downhill, but visited again in 2016 and it was still good.
Another we have been to a few times is
Dairy Hut Seafood
, a 2nd branch of the Dairy Hut restaurant in Phuket Town. Next door they have now opened Dairy Hut Farm with animals to pet and feed including some llamas.
(above) Dairy Hut Seafood restaurant in Phang Nga
And there are a couple of little cafes which we know with nice views, just (for us) a place to stop for a drink - the
Phang Nga Viewpoint Cafe
, near Phang Nga Town and the
360 Degree Viewpoint Cafe
which is just a few km north of the bridge. We have also recently visited a couple of restaurants near Wat Khao Waterfall which will be blogged in the near future.
(above) That's me at the 360 Degree Viewpoint Cafe
Khao Lak
Phang Nga Province has plenty of beach property and it's mostly way quieter than Phuket. Khao Lak was really just becoming a destination in it's own right when the tsunami hit hard in 2004. Khao Lak suffered a lot more damage than Phuket, though of course now nearly 10 years later there's no obvious evidence of the disaster. I had never stayed more than a couple of hours in Khao Lak before 2013, but we booked a couple of nights to explore the area, and liked it so much we have had several more overnight trips there! See :
Holidays in Khao Lak
and
One Night in Khao Lak
.
(above) A Khao Lak Sunset, we really liked the uncrowded beaches
(above) One of the
tsunami memorials in Khao Lak
- this police boat was carried more than 1km inland and was left there as a reminder.
Khao Lak is also the start point for most trips to the
Similan Islands
and other offshore islands. The Similans are a big destination for divers - it's why I came here in 1999, looking for work as a dive instructor. I wanted to dive the Similan islands and diving is still in my veins as manager at
Sunrise Divers
! A bit north of the Similans is
Koh Tachai Island
- I had dived there before but never been shore until 2013 when we did a day trip from Khao Lak. Wow.
(above) The kids enjoying the day at Koh Tachai
Khao Lak is about a 1 - 2 hour drive from Phuket, depending where you start in Phuket. From our house near Phuket Town, about 1 hour 30 minutes. Carrying on further north from Khao Lak you reach Takua Pa, which (100+ years ago) was an important trading port, just like Phuket. Now it's still a big fishing port and just outside the main town is the
old town of Takua Pa
which is similar to old Phuket Town only quieter. We've been a couple of times. On Sundays in the high season they have a
street market
which we visited also, kind of like the Sunday walking street market in Old Phuket Town, but .. older!
(above) In Old Takua Pa, and on market day.
And further north still, and still in Phang Nga province, in between Takua Pa and Kuraburi is
Sri Phang Nga National Park
which features several waterfalls and we really must check out more of them, because once we found Tamnang Waterfall we decided that would do us just fine! It was more impressive in low (rainy) season although that meant you could not swim in the pool below the falls and a park ranger came with us to make sure we stayed safe.
(above) Waterfall at Sri Phang Nga National Park
There are quite a lot of waterfalls in Phang Nga, we have stopped at quiet a lot.
Lampi waterfall
and
Ton Prai waterfall
south of Khao Lak are well worth a look - again, they are more spectacular in the rainy season, but still great places to cool off on a hot day in April!
(above) Yeh, that's me enjoying the cool water at Ton Prai waterfall!
Another place with waterfalls that we like is
Sa Nang Manora Forest Park
, just north of Phang Nga Town. No big cascades, but a lovely forest setting, popular with locals at the weekend. There's another place called Raman Waterfall Park south of Phang Nga Town that we do mean to check out one day!
Temples in Phang Nga
I do like my temples! And Phang Nga has several interesting ones to visit and I am sure there are more to be found. The most famous is
Wat Suwan Kuha
, also called Wat Tham, which is built into a cave featuring a large reclining Buddha and lot of monkeys!
(above) Wat Suwan Kuha is found a bit before Phang Nga Town if you are coming from Phuket. Before that, on the left side is
Wat Manee Sri Mahathat
, which is home to a large statue of a famous Monk called Por Than Klai.
(above) Wat Manee Sri Mahathat
In Phang Nga Town is one of the oddest temples I have seen -
Wat Thamtapan
features visions of heaven and hell. The Buddhist version of hell is all about different punishments for your worldly sins. We ascended the steep stairs in the heaven section where you can find a view back across Phang Nga to the sea.
(above) The somewhat dizzying stairway to heaven at Wat Thamtapan, Phang Nga
And one more temple, well worth the long drive past Phang Nga Town near the small town of Thap Put, is
Wat Bang Riang
. I had seen pictures, but we did not really know where it was, finally "discovering" this place in 2012.
(above) Wat Bang Riang
Little Amazon River Tour
North of Khao Lak is the town of Takua Pa (as mentioned above). Just a couple of kilometers from the town you can start the
Little Amazon tour
along a small mangrove river looking out for wildlife such as snakes and monkeys. We did the trip in 2016 and it was fun!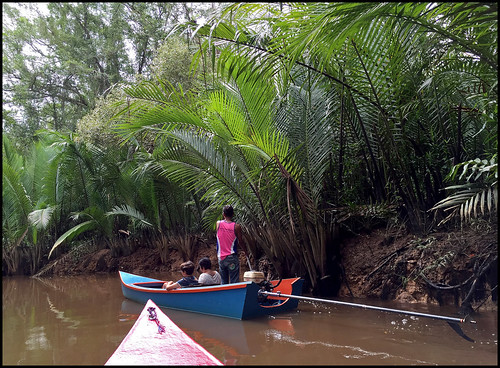 (above) On the Little Amazon River Tour
Koh Yao Noi Island
Also part of Phang Nga Province, sitting in Phang Nga Bay, just a short boat ride from the northeast coast of Phuket, are the islands of Koh Yao Yai and Koh Yao Noi. The former we have not visited yet.
Koh Yao Noi
we have been several times for day trips. It's a very quiet island with a mostly Muslim population, the main business is fishing and farming, though for sure the tourism is evident. We have enjoyed a couple of family day trips taking the boat and then renting scooters on arrival to explore.
(above) - My favourite football pitch, at Koh Yao Noi island
Koh Yao Yai Island
To the south of Koh Yao Noi, and larger, but actually less developed (although it does have a bunch of hotels of varying standards) is Koh Yao Yai island. We'd not been until 2016, and had a very nice overnight trip including a morning tour round some other islands such as Koh Hong. A beautiful place to stay. See -
Koh Yao Yai Island
.
(above) View from
Thiwson Resort
at Koh Yao Yai Island
White Water Rafting
We did a very enjoyable little
white water rafting trip in Phang Nga
, north of Phang Nga Town near
Tone Pariwat Waterfall
. Trips like this can be booked with my friends at
Easy Day Thailand
.
(above) That's me and the family on white water!
Bang Pat Fishing Village
A place I had meant to visit for a few years,
Bang Pat
sounded very interesting, a little village hidden away in the mangroves with fresh seafood and homestays available. We stopped there in 2015, and I felt like it was like a poor man's Koh Panyee, we did not eat there, just looked around. Might go back for some food someday!
(above) At Bang Pat village
Great Scenery
And pretty much no matter where you are in Phang Nga, there's some amazing scenery. Especially along the roads near Phang Nga Town or on the way to Krabi. Those limestone karts that are found in the bay can also be seen on land. Hills jutting up everywhere. A drive can be worth it just for the views. I took the photo below one morning quite early (about 7:30am) with the mist hanging around the hills.
And in June 2015, we did go looking for some back roads, a very nice area called
Klong Kian
, which is just over the bridge from Phuket to the east and covers an area half the size of Phuket. Quiet roads and some unexpected views from little fishing villages. We like this kind of exploring!
Samet Nangshe Viewpoint
A real WOW! I saw images on Instagram in early 2016 and realised we'd been near here before when visiting Klong Kian, but I had not seen any viewpoint signposted. Seems that someone has made a rough road up a hill, you pay 300 Baht, there are a few food and drink vendors and the views are amazing from here. Read more :
View from Samet Nangshe, Phang Nga
.
(above) Samet Nangshe Viewpoint
Khao Kai Nui Viewpoint
In between Phuket and Khao Lak, a place I tried to find a couple of times, it's not well signposted!
Khao Kai Nui
is a viewpoint on a hill, which you really need 4WD to drive up though we just about made it with a 2WD pick up truck. Great view in the day time, but it's meant to be best early morning with the fog lying in the lowlands. So we'll have to do it again!
(above) View from Khao Kai Nui
There's still more to explore in Phang Nga. I have seen signs to interesting looking restaurants, I want to check out some back roads, I want to go back to the viewpoints in the early morning. Need more time! Oh, to be a full time blogger! If you drive east through Phang Nga you get to Krabi which is just about close enough to visit in a day trip from Phuket. North of Phang Nga is
Khao Sok National Park
which makes a very long day trip, better to stay a night or 2, which we have done many times. Keep on exploring!
Phang Nga (พังงา) Province Map
View
Phang Nga Province
in a larger map
---
You have been reading : Exploring Phang Nga Province
Looking For More? Search Jamie's Phuket Blog ...
Search Here For Your Phuket Hotel ...