Things to Do in Phuket
As you may imagine, since Phuket is a tourist destination, there are plenty of points of interest, places to visit and many activities to do in Phuket. Some Phuket attractions are very touristy such as Phuket Fantasea or a Ladyboy Cabaret while other places (the kinds we prefer) are a little off the beaten track. Sure, we go to some touristy places too, but I just want to say that Phuket is a big island and it's great to get out and explore. Many day trips will take you off Phuket island to other nearby places. This is what we have been doing over the last few years, really getting to know Phuket and the surrounding area, not just the obvious tourist hangouts - more of the "real" Phuket. I guess this whole blog is about "things to do", so please take some time to explore all of Jamie's Phuket Blog!
There are many more so called 'attractions' than can be mentioned here. I prefer the natural beauty of the Phuket area - beaches, views, quiet back streets, laid back seafood restaurants and so on rather than organised tourist fun, but the more I think about it, the more I realise how much Phuket has to offer... After many years here, we're still doing new things! There's a lot of stuff to do in and around Phuket!
Scuba Diving in Phuket
Well, diving is why I came here in 1999, and I spent many years as manager of a dive shop called Sunrise Divers based in Karon Beach. There are a few diving related posts on this blog about the dive sites and diving options available. If you want to learn how to dive, take a liveaboard dive trip, a day trip or anything diving related, you can contact
Sunrise Divers Phuket
.
•
Diving with my Family at Racha Yai Island
•
I was manager at Sunrise Divers for many years
•
Liveaboard Diving in Phuket
•
The Similan Islands
Phuket Tour Booking
If you want to book a tour, hire a boat, play golf, go fishing, snorkeling, book airport transfers, visit Phi Phi or Phang Nga Bay or pretty much anything... a few years ago some friends of mine opened a company called
Easy Day Thailand
who can help you. The emphasis is on personal service - you can contact them here:
•
Top 10 Tours from Phuket
•
About Easy Day Thailand
What to do in Phuket (and nearby areas!)
•
Weekend at Koh Yao Yai Island
•
Racha Yai (Raya) Island Tour
•
Phang Nga Bay (Doing it Our Way!)
•
Phang Nga Bay New 2015 Trip
•
Phang Nga Bay in the Rain
•
Khao Sok National Park
•
Siam Niramit Show
•
Phuket Fantasea Show
•
Phuket Elephant Sanctuary
•
Exploring the Krabi area
•
Koh Tachai Island
•
A Tour of South Phuket
•
White Water Rafting
•
Things to do in Phuket with Kids
•
Things to do on a Rainy Day
•
Phuket Museums - Introduction
•
Phuket Waterfalls - Introduction
•
Phuket Bird Park
•
Phuket Botanic Garden
•
Speedboat charter / island hopping
•
Splash Jungle Water Park
•
Trickeye Museum 3D Gallery
•
Koh Panyee (village on stilts)
•
James Bond Island
•
Mini Golf at Bang Tao Beach
•
Yoga Classes in Phuket
•
Where to see monkeys in Phuket!
•
Phuket Aquarium
•
Day Trip to Koh Yao Noi with Mopeds
•
Gibbon Rehabilitation Project
•
Kayaking in the Mangroves
•
Explore Phang Nga Province
(above) James Bond Island in Phang Nga Bay
(above) At Khao Sok National Park
More Things to Do in Phuket ....
•
Elephant Trekking
(should you?)
•
Ao Phang Nga Bay Boat Trip
(2007)
•
Phuket Thai Hua Museum
•
Phuket Seashell Museum
•
Phuket Tin Mining Museum
•
Phuket Zoo?
(above) White Water Rafting
(above) Exploring Koh Yao Noi Island
•
Dino Park Mini Golf
•
Phuket Weekend Market
•
Phuket Indy Market
•
Karon Temple Market
•
Phuket Wake Park
•
Explore Old Phuket Town
•
Day Trip to Phi Phi
(above) Chalong Temple
(above) Old Phuket Town
Waterfalls in Phuket
Don't be expecting
too
much from the waterfalls in Phuket. I've read some guide books and online guides suggesting fantastic jungle cascades.. well, not as such. Nevertheless, there are several small waterfalls and they do serve to get you some fresh air, a bit of jungle time and some exercise.
•
Bang Pae Waterfall
•
Tonsai Waterfall
•
Kathu Waterfall
•
Ton Prai Waterfall
•
Lampi Waterfall
•
Sri Phang Nga National Park
(above) Ton Prai Waterfall
(above) Getting Ready to Dive at Racha Yai Island
Go to watch the Football!
Phuket FC got promoted a couple of years ago to Division 1 of the Thai national league, home games are normally on the weekend during the season, great fun if you are a football fan, better than watching the boring English Premier League on TV! More information :
•
Watching Phuket FC
(2012)
•
Watching the Footie - Phuket FC
(2010)
There is so much to see and do in Phuket. It's not just beaches and organised tours. This is a big island. Get out and explore! I suggest at least one of the following:
• Get up some
Hills and Viewpoints
such as:
•
The Many Big Buddhas of Phuket
•
THE Big Buddha
•
Kata / Karon Viewpoint
•
Rang Hill
•
Cape Phromthep
(above) The Big Buddha
(above) Karon Viewpoint, view of Kata Noi, Kata and Karon beaches
• Visit one of the many
Temples in Phuket
- among the most popular are:
•
Chalong Temple
•
Wat Phra Tong
•
Karon Temple
• Get a boat trip to a nearby
Island
- try these:
•
Koh Kaew Yai
•
Koh Yao Noi
•
Koh Rang Yai
• Go and Explore Phuket Town - I always find something of interest there...
•
Thalang Road in Old Phuket Town
•
Phuket Heritage Trails
- Phuket Town tours.
•
Walking in Old Town
(2011)
•
Phuket Photo Walk 2010
•
Phuket Town Photo Walk 2009
(above) Kayaking in Phuket
(above) Koh Rang Yai Island
Take a hike ...
Phuket is not a hikers paradise. There's very little in the way of trails. I have done a couple of longer hikes recently using back roads and rubber plantation trails. You can also hike at the waterfalls a bit, or you can go to several places where many locals gather to exercise in the late afternoon. Or a nice walk in old Phuket Town - see links above.
•
Hike up to the Big Buddha
•
Hiking to the highest point in Phuket
•
Bang Wad Reservoir
Some easier places to stretch your legs...
•
Chalong Jetty
•
Suan Luang Park in Phuket Town
•
Sapan Hin Park in Phuket Town
(above) Phromthep Cape
(above) Sapan Hin Park in Phuket Town
Festivals in Phuket
If you happen to be here at the right time of year... Songkran is April 13th, Loy Kratong sometime in November (it's a lunar festival, so dates change), and the amazing Phuket vegetarian festival is sometime around September / October. Unmissable.
•
Phuket Festivals - Introduction
•
Phuket Vegetarian Festival Information
•
Songkran
- the "water" festival
•
Loy Krathong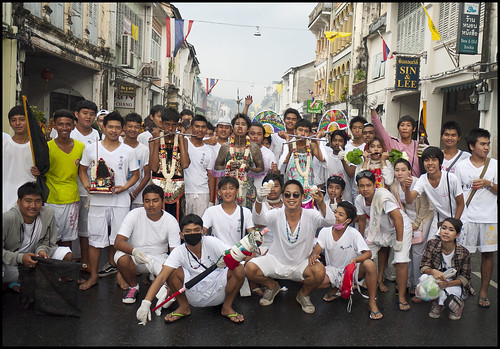 (above) Phuket Vegetarian Festival (sometime between end of September and end of October, depending on the moon phase)
(above) Songkran Festival (April 13th every year)
Much more to come as time goes by... I need way more blogging time! I try to add to this blog at least a couple of times per month. Bookmark Jamie's Phuket now if you're planning a trip to Phuket sometime in the future!
A few more things to do in Phuket .... Here's a few links to attractions in Phuket that are not on the Phuket blog. Some are rather touristy and I am not sure if I will ever do, some I just have not got round to yet, some will certainly be blogged sometime!
Simon Cabaret Show - We never went to see the ladyboy show, but lots of people do and it's been running for 20+ years
Phuket Bungy Jump - We used to live near here and we know the owners well. I am too scared to jump!
John Gray Sea Canoe - a highly recommended tour operator
Flying Hanuman (Jungle Zipline) - Again, I would do it, but in this case I am too heavy - suggested max weight is about 100kg
Oh, and there's more opening all the time, I have not been to the upside down house or tried surfing or stand up paddle boarding or ....
See you in Phuket!!