360 Degree Coffee - Andaman Viewpoint
I do like to explore my environment and I am lucky that my wife is the same. Not everyone is the same of course - we have friends who have lived years in Phuket and have not been to half the places on this blog. Other friends here, as well as visitors, use my blog to find ideas of what to do. Starting the blog was a good excuse to take Saturday drives around the island looking for places of interest. We still do this, and if we see side roads that have yet to be explored we normally follow them. Phuket is big enough that there are still places I have not seen, and it's important to remember that "Phuket Island" is connected to the mainland by the Sarasin bridge - just 500 meters from Phuket and you are in Phang Nga province. From our house, it's about a 40 minute drive to the bridge, so Phang Nga is easily reached. Last month we had a little holiday, staying 2 nights at the
Cliff and River Jungle Resort
on the edge of Khao Sok national park. From home to there is about a 3 ½ hour drive via Khao Lak and Takua Pa. On the way back we stopped to explore
a little town called Sri Takua Pa
, and then just before Phuket we followed a sign to "Andaman Viewpoint", just a few km north of the bridge. We had seen the sign before and not thought there could be much of a view, but we were in exploring mood this time.
The sign at the road did not say there was a restaurant, just a viewpoint. The hill is maybe 100 feet high, but high enough to see the sea to the west (above). Finding a restaurant there was a bonus, as we were getting peckish and wondering what to east when we got home. The restaurant sits on the side of this not-very-high hill, but all the land north and east is flat, so there is quite a view actually...
We ordered some ice coffee and a "family plate" of fried rice, 120 Baht, big enough for 2 adults and 2 kids. My wife said she remembered seeing the place on the local cable channel, a few other people were there having coffee, I don't reckon they get many foreign customers, but promotion on the local cable TV is good for getting local business. A good place for a sunset dinner one day I think. (update 2015) Is busy at weekends.
Our daughter enjoyed using a telescope they had fixed to the floor through which you could see Sarasin bridge to the south.
Quite a unique place, hope they get enough business to stay open long enough for us to visit again! Certainly worth stopping if you are driving to Phang Nga or Khao Sok. A day trip might include
Wat Suwan Kuha
- the temple in a cave, lunch at
Samchong Seafood
and an afternoon on a boat to
James Bond Island
and
Koh Panyee
, then stop at this 360 view restaurant on the way home!
(Update 2011) - The 360 Degree restaurant and cafe is getting popular, especially at weekends. We were there again recently (October 2011) for coffee and cake, and they now have a crane on site to hoist people up in a viewing capsule - excellent!
NEW PHOTOS OCTOBER 2011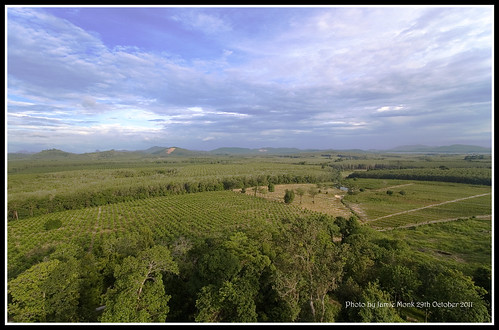 Update 2015 - It's got a kind of waterslide and pool now and a shooting range. We've not been for a while.
---
You have been reading : 360 Degree Coffee - Andaman Viewpoint
Looking For More? Search Jamie's Phuket Blog ...
Search Here For Your Phuket Hotel ...