The Many Big Buddhas of Phuket
Big Buddhas? Surely there's only one "Big Buddha" in Phuket? The big white one on the hill? Yes, that's the one known as THE Big Buddha, and it certainly is impressive. We've been driving up that hill for over 10 years since before construction began. It's not just the 45m high statue, but we love the great views over much of southern Phuket. Thailand is of course mostly Buddhist, so there are lots of Buddhist temples here, though Phuket also has large a Muslim minority and many Thai-Chinese families. You'll find mosques and Chinese shrines all over the island too, and even a Catholic church, a Hindu temple and Sikh gurdwara! And there's certainly more than one big Buddha here ...
"The" Big Buddha of Phuket
The biggest Buddha in Phuket is the big white marble covered statue on top of the Nakkerd hills in the south of the island near Chalong. It's been under construction for many years. The main statue is fairly well complete, but there's still work in progress around the edges. When it was being built we'd come up the hill for the views and some peace. Now it's part of many tour itineraries, so can be crowded, unless you visit early morning or late afternoon. The statue can be seen from much of the south of the island, and the views from the hill, more than 400m above the sea, are great.
•
The Big Buddha of Phuket
•
Hiking to the Big Buddha
Reclining Buddha at Sri Sunthorn Temple
Built on the roof of one of the temple buildings at Sri Sunthorn temple, just south of Thalang in the centre of Phuket island is a 25m reclining Buddha. This is not a busy temple, we've been numerous times and hardly ever seen more than a few visitors. It's right by the main road through Phuket from town to the airport, but it's behind some trees and hard to spot from the road. The temple is named after one of the Heroines of Phuket who fought off the Burmese way back in 1785. Oh yes, we got history too!
•
Sri Sunthorn Temple
Seated Buddha at Rang Hill Temple
Up a tiny, hard to find side road next to the Vachira hospital in Phuket Town, is a little secret. Somehow, I did not see this until January 2012, even though the blog had been going nearly 6 years and I love temples. My wife just casually said one day "did you ever see the temple up this road?" ... Wat Khao Rang is at the foot of Rang Hill, on the north side of Phuket Town, well known for views and the popular
Tunk Ka Cafe
. The golden seated Buddha is very nice indeed and I really should go back one day for some early morning photos in better light. Phuket is full of surprises, even for a long term resident!
•
Khao Rang Temple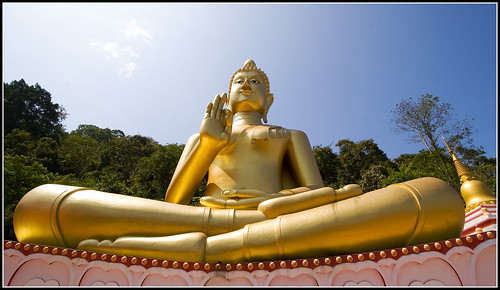 Buddha in a cave at Wat Suwan Kuha
OK, this one is not on Phuket island .. Wat Suwan Kuha, also called Wat Tham ("cave temple") is over the bridge in Phang Nga province, but is visited by many tours from Phuket. We've been quite a few times. The Buddha is quite impressive, the whole thing was built about 150 years ago by the Na Takuathung family who still live in Phuket. A visit here can be combined with a
Phang Nga Bay
tour. Outside the cave there are lots of monkeys. There's a 20 Baht entry fee to the cave.
•
Wat Suwan Kuha
Reclining Buddha at Koh Sirey Temple
Every time we visit the temple on a hill at Sirey Island (just east of Phuket Town) we feel sorry for the place. With some funding it could be gorgeous. Please do visit and leave a donation! Sirey Island (rather like Phuket) is hardly an island, you can drive there over a small bridge from Phuket Town. The temple is up a small hill, about 200 feet above sea level - views are pretty good actually! Inside the temple is a large reclining Buddha about 20m from head to toe. We like driving around Sirey for the views and there are some small restaurants dotted around the place, plus a sea gypsy village not far from the temple.
•
Koh Sirey Temple
Golden Buddha at Koh Kaew Yai Island
Not such an enormous Buddha, but an important one ... Koh Kaew Yai is a small island about 1km off the south tip of Phuket, you can see it from
Phromthep Cape
. Local legend says that Buddha set foot on the island before arriving in Phuket. Some monks live on the island. There is a large "footprint of Buddha" on the south side of the island, and facing north towards Phuket is a Buddha statue about 6 or 7m high. Not enormous, but an interesting place to visit - you can go by longtail boat from
Rawai beach
.
•
Boat trip to Koh Kaew Yai
Wat Bang Riang
A very impressive temple in the hills north of Phang Nga Town near the small town of Thap Put ... quite a drive from Phuket actually, but a day trip including this temple can also include Wat Suwan Kuha and maybe a nice lunch at
Tha Sai Seafood
. The temple covers a huge area, with a main building on a hill and then a big Buddha and a big standing figure of the goddess Guan Yin. And quite a few steps to climb! Certainly worth a visit if you are in an exploring mood (which we often are!).
•
Wat Bang Riang
Related Blog Posts
•
Phuket Temples and Shrines
•
Wat Chalong - Phuket's Biggest Buddhist Temple
•
Sikh Gurdwara in Phuket Town
•
Phuket Mosques
•
Shrine of the Serene Light in Phuket Town
Google Map of Phuket Temples
View
Phuket Temples
in a larger map
---
You have been reading : The Many Big Buddhas of Phuket
Looking For More? Search Jamie's Phuket Blog ...
Search Here For Your Phuket Hotel ...