Koh Rang Yai Island
Koh Rang Yai is a small uninhabited island about 5km off the east coast of Phuket, featuring a kilometer of sandy beach on the west side with views back to the mainland. There is a restaurant, a little bar and I believe some bungalows, I'm going to have to go again to check, but I am sure that they have some simple bungalows for rent. The island is a little slice of paradise. Really. It's as close to unspoiled as you can get in this part of the world.
To reach Koh Rang Yai, you can visit as part of a tour or take a longtail boat from Laem Hin jetty, next to
Laem Hin Seafood
(a favourite restaurant). On the way, you pass Koh Maphrao, a much bigger island which is basically full of coconut trees (Maphrao = coconut), has a fishing village and a resort called
The Village
which opened a few years ago. I'm tempted to book us in there for a night sometime soon! There are also some floating restaurants.
We've been there a few times over the years, the first time in 2006 with our kids and my parents. The parents were back again last year and did a little trip to Koh Rang Yai again after a tasty lunch at
Bang Mud Seafood
, which is one of the floating restaurants at Coconut Island. That first time I think we paid 800 Baht for the longtail boat, I guess it would be more now, but not too much more. I mean, there's not much there, ideal to chill on a lovely beach, but not much to do! I think the kids would love to go back and really it's a gorgeous place...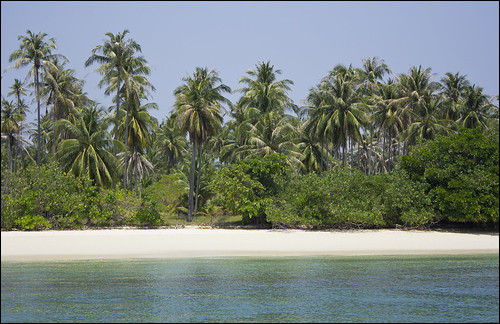 I am quite amazed that a huge resort has not been built there yet. Doesn't seem to have changed much over the years. The second time I visited was in 2010, a great day out on my birthday - the owner of
Sunrise Divers
bought a cool sporty speedboat to use as a charter boat and we headed to Koh Rang Yai to do some promotional photography with
Helicam
...
The photo above is by Helicam - the little helicopter with attached camera was being flown by Phil (one of the owners) chasing the speedboat - they'd never tried doing really low level stuff like this before. And that's Koh Rang Yai in the background! They got some great shots. In the back of the speedboat is me taking photos and Phil controlling the helicopter. The photographer is also in the speedboat - he gets a live image from the helicam and takes photos by remote control. Amazing stuff! Some of the photos I took can be found on the blog - see
Speedboats and Helicam at Rang Yai Island
. You can "park" a speedboat or longtail boat easily at the beach ...
Rang Yai was in my mind again recently - we did a
speedboat tour right around Phuket Island
in 2013, a bit of an experimental tour by my friends at
Easy Day Thailand
. We did a full circumnavigation of Phuket, with several stops on the way, the first stop being at Koh Rang Yai and to be honest I think we would have been happy to stay there all day! The word "paradise" is rather overused, but anyway ....
Certainly fun for all the family. We stopped about 1 hour on the island. There is something about blue seas, white sand, palm trees, a cold beer that makes you want to stay a while. We'd stocked a few beers on ice in the speedboat. I saw that there is a bar there by the beach. I know that there is a small restaurant, but on that last visit in 2010 we found the restaurant to be somewhat overpriced, charging something like 200 Baht for a fried rice. If we go again soon, we're taking a picnic! Not sure what the bar charged for a beer, but sometimes any price is OK for a cold beer on a perfect day :)
Oh yeh, jump for joy! When we stopped on that trip, there were about 10 other boats and almost all the tourists from those boats had taken up position on the same 100 meter stretch of sand or in the shade of the trees behind the beach. If you walk 100m, you get a perfect beach to yourself. Same goes in many tourist areas. 90% of tourists in the same 10% of space. Take the road less traveled! I mean, just by heading to Koh Rang Yai you lose 99% of the tourists who are happily sitting on Patong beach or one of the other main beaches. And then walk 100m and you lose 90% of the remaining 1%. Get it? Hope so.
Inland from the beach, aside from the previously mentioned bungalows (I think), restaurant and bar, there's a shop, and then some trails through the coconut trees. You can rent a bicycle and ride around or just take a walk as we did. Yeh, not much to see, but sometimes that's great. Palm trees, nature, sand, sea, the hot tropical air. That'll do!
(above) Bike hire on Rang Yai island
Not a bad little place! I think we'll be back again soon. The east coast of Phuket has a lot of small islands. It sounds kind of obvious but the best way to see Phuket island is by boat!
Koh Rang Yai - Location Map
View
Koh Rang Yai Island
in a larger map
---
You have been reading : Koh Rang Yai Island
Looking For More? Search Jamie's Phuket Blog ...
Search Here For Your Phuket Hotel ...