Koh Yao Noi - Exploring the Island by Moped
To the east and northeast of Phuket in Phang Nga Bay, in between Phuket and Krabi, you can find many islands. How I would love to have my own boat and cruise around exploring! The north of Phang Nga Bay is where you find well known places such as
James Bond Island
and
Koh Panyee
which we have visited several times (see
Phang Nga Bay
). To the south of these are 2 much larger islands.
Koh Yao Yai
is about 25km from north to south, while Koh Yao Noi is much smaller, about 10 x 5km. We first went to Yao Noi about 5 years ago (see
Day Trip to Koh Yao Noi
). I did a cycling trip there last year and we've had an idea for some time to head over for a day and rent some mopeds - we noticed mopeds for rent at the jetty. Finally this week we did it!
Getting to Koh Yao Noi is easy enough, though it does help to have your own transport so you can drive to Bang Rong pier in the NE of Phuket. Bang Rong is quite a busy place with fishing boats and ferries heading to various islands. There is also a
floating restaurant
here that we have eaten at many times. If you don't have your own transport, you can either get a taxi here or you can get a local bus from Phuket Town (they depart from outside the market). Taxi from main beaches I guess will cost 600 - 800 Baht each way. May be cheaper going back as it would be a Bang Rong taxi rather than a beach taxi!
There are big longtail boats heading to Koh Yao Noi, or speedboats. We assumed the speedboat would be a lot more expensive, but no .. a longtail (which we used before) was 100 Baht for adults, 50 for kids. The speedboat was 200 Baht for adults and free for kids! So we opted for the speedboat, due to depart 11am. There are boats heading over every 30 minutes or so. We waited at a little cafe/shack by the pier and had a drink as boats came and went.
Speedboat option turned out to be a good idea. Fast, and not crowded. The weather was perfect with very calm seas so we zipped across to Manao Pier at Koh Yao Noi (stopping off at a pier at Koh Yao Yai first) in less than 30 minutes. The longtails take over an hour. Kids enjoyed the ride over, and my daughter quickly befriended a girl from the island whose grandfather gave us a ride down the jetty when we arrived so we could look for mopeds. Our daughter was quite sad that she might never see this girl again! Here's the kids getting the wind in their hair on the boat:
You may guess from the photo above that Koh Yao Noi is a Muslim island. Bang Rong is also a Muslim community, in fact about 30% of Phuket is Muslim, and much of Phang Nga province is Muslim. For the visitor this means 2 things - you almost certainly can't find any pork to eat, and some restaurants may not have any alcohol. The floating restaurant at Bang Rong is one of those. I find the Muslim areas of Phuket to be very friendly and recall some years ago walking in Phuket Town. There is a street where you can find a Chinese shrine, a Mosque and a Catholic church, all on the same street. At the shrine, there were a bunch of old guys sitting and chatting, but they ignored me. The Catholic Church was all locked up. At the mosque I was welcomed in with smiles. Koh Yao Noi is a small island where everyone knows everyone. I can imagine it's the kind of place where there's no trouble and you can leave your door unlocked. Reminds me a bit of Utila, and island off the coast of Honduras where I used to live.
We found 2 mopeds to rent - normal rate around 200 - 250 Baht per day. The guy gave them to us for 150 Baht each, as it was already nearly midday. And as if to reaffirm my views that Koh Yao Noi is trouble-free, he said "when you're done, just leave the bikes at the jetty with the key in the ignition"! We did him a favour and filled up both bikes with gasoline at one of Koh Yao Noi's biggest gas stations ...
We had no real plan for the day. I kind of know the way around the island having cycled much of the way last year. There are only a few roads to choose from, and it's hard to get lost on a small island. I figured we'd get some lunch on the east coast where you find a beautiful view and there are a bunch of restaurants and small hotels. So far, Koh Yao Noi is pretty undeveloped. There are a couple of big resorts - (
Koh Yao Paradise
and the
Six Senses Resort
. But much of the island is very rural. There are lots of rice fields on the west side - the view below is behind the gas station ...
And there are lots of rubber trees. Rubber is still an important industry here, and in Phuket too - a lot of Phuket is covered in rubber trees, though you may not see this near the beaches. We rode our mopeds along shaded roads through the rubber plantations. The roads here are very quiet. It's mostly mopeds, there are not many cars. It's very relaxed riding and the road surface is mostly pretty good.
There was some dirt road as we rode up a slight hill heading over to the east coast - I remembered this hill from the cycling trip - seemed a lot steeper on a bicycle! As the road drops to the east coast, you see views across a blue sea dotted with little islands and the mainland behind. It's pretty darn gorgeous! We rode down a small jetty as a longtail boat came in from a fishing trip.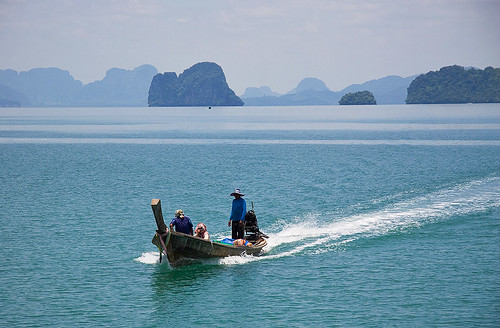 Along this stretch of road there are several small hotels / bungalows, but they are not built right on the beach - just over the road. It's just a narrow road and certainly not busy! View from here is great, sea was perfectly blue, sun shining, it was such a beautiful day :)
It's only about 5km ride from the jetty to the south, and the road turns back west towards the main town. We stopped for lunch at
Sabai Corner
where I had also eaten on the cycling tour. Food was OK, views were great and we were happy to sit and relax for an hour. Kids took advantage of the hammocks on offer. And then we headed off to explore more of the island. We knew the speedboat was heading back to Phuket at 5pm so we had plenty of time. One sign said "Ao Mamuang", so we decided to follow this road. It was a dirt road, but pretty flat and in decent condition. I figured there must be something worth seeing if there was a road ... but the road started to get worse, and it got hilly too, with lots of up and down, which is tricky on a little moped when you're riding with a kid on the bike too. I wondered if we should turn back, but we figured "it can't be far" to wherever the road was heading... The dirt roads were quite a challenge actually and the kids were getting tired on this very hot afternoon, with no 7-11 in sight! One hill headed up and up, and my wife's moped seemed to lack power - poor daughter had to get off and walk some of the way. Great view at the top ...
This was an unexpected offroad adventure. At the top of this hill (I have checked on Google Earth and it looks like about 400 feet above sea level) I really hoped it would not be too much further to go, and hoped there would be some kind of town at the end and certainly a shop to buy a drink! The road dropped from here, climbed again, dropped again. I was feeling sorry for the kids - my son was getting very tired sitting with me on the bike. And then we hit a security barrier on this isolated dirt road. For one second I thought "oh **** we'll have to turn back". A security guard approached and I asked him "what is this place". Turned out to be the Paradise Koh Yao Resort. The guests don't come by moped - they come by boat. Can we come in??? Thankfully, he gave us Visitors badges, we parked our bikes and while the kids found a shady bench to lie down, my wife and I looked for the bar! Well, I have to say, if I was feeling rich, a few nights at the
Paradise Koh Yao
would be nice!
We found the bar and bought 2 cans of coke at 90 Baht each... no ice or glasses .. I bet the guests get those. The barman gave me a "what are you doing here" kind of look. I had to ask specially for straws. Would have gladly paid more than 90 Baht, we were pretty parched. A couple of guests swam in the perfectly calm water holding cocktails. I saw some others heading off on kayaks. Very beautiful location.
Kids were revived by coke and a lie down in the shade. It was after 3pm, so we had to head back. I was not looking forward to the ride ... we asked the staff but they told us there was no other road out. So, we saddled up and headed off back towards the main town and pier, about 10km south. Actually the ride back was much easier, I think because we knew what to expect and knew where we were heading. And we were becoming off road moped experts by now :)
The boy can't wait to get a motorbike. He's 6 years old. Many Thai kids start riding mopeds very young. Maybe just around their street, but it's not long before they are whizzing around, normally 3 per bike, pulling wheelies, trying to impress the girls and of course not wearing helmets. Here on Koh Yao Noi we weren't offered helmets, and well, the roads are so quiet and of course we were driving very slowly. The hilly offroad sections were a bit of a worry but we went as slowly as we could.
Was a great day out for all of us. Something new for the kids to experience. We'll do this again sometime - there are some more roads on the west coast of Koh Yao Noi that we did not check out, but next time I am quite sure we'll skip the dirt road to the Paradise Resort! Back at the main town (about 2km from Manao pier) we dived into the 7-11 for cold drinks and aircon. We then left the 2 mopeds at the jetty, keys in the ignition as instructed :) The speedboat back was a little more crowded but again I was glad for the quick trip rather than the slow longtail. Also glad (again) to be living in Phuket with so much on our doorstep.
(update) We did a similar trip again in 2012 - see
Koh Yao Noi Day Trip 2012
:)
A final photo. We found a sandy football pitch on the east coast. Got to be one of the best football views in the world!
(above) Gooooaallll! Superb east coast view on Koh Yao Noi!
Koh Yao Noi - Useful Links
•
Koh Yao Noi Hotels
•
The Paradise Koh Yao Resort - Info and Booking
•
Koh Yao Island Resort - Info and Booking
•
Six Senses Koh Yao Resort - Info and Booking
Map of the Koh Yao Noi Area
View
Koh Yao Noi Island
in a larger map
---
You have been reading : Koh Yao Noi - Exploring the Island by Moped
Looking For More? Search Jamie's Phuket Blog ...
Search Here For Your Phuket Hotel ...