A Holiday visiting Krabi from Phuket
Phuket island is the biggest island in Thailand, this is true, and it's bigger than most people realise, but many tourist attractions, day trips and much of the beautiful scenery you see in brochures and online can actually be found outside of Phuket island/province in the nearby provinces of Phang Nga and Krabi.
Phang Nga province
we have explored extensively and is reached simply by driving over the bridge from Phuket, plus you have Phang Nga Bay to the east and north of Phuket. Krabi is reached by road from Phuket through Phang Nga, or by boat directly across Phang Nga Bay. The many islands in the bay are split between Phuket, Phang Nga and Krabi provinces. One of the most common destinations for day trippers or longer stays is Phi Phi - and the
Phi Phi Islands
are part of Krabi province. And please note : Krabi is not an island. I suggest looking at a map of the area before taking a holiday!
I really don't know why, but we have never, ever been to Krabi for more than a day trip. A couple of times to
Phi Phi
.. and I think a couple of the small islands we visited on our
Koh Yao Yai
weekend trip were in Krabi province. And we did a day trip back in 2009 on such a hot day, my Dad had trouble with the heat, our accommodation was not what we expected and although we had intended to stay a night, we returned to Phuket having just seen Ao Nang beach, which I was not impressed by, and found a nice lunch overlooking Nopparat Thara beach, which was much nicer. And somehow we never went back until last weekend!
First thing to say - we're planning another long weekend in Krabi soon! I think one reason we never went since 2009 was that we felt it was quite a long drive for a weekend. Krabi Town is just 60km across the bay from Phuket Town, but more like 160km or maybe a little more by road. But for this trip we left home early and were driving over the bridge from Phuket at 8:30am and found Krabi to be closer than we thought! By 10am we were getting close to Krabi Town. There's some great scenery in the Phang Nga - Krabi region, a very nice drive. And before 10:30am we checked in at our hotel. We chose to stay in Krabi Town rather than a more expensive beach area. I wanted to see the local town and we chose an inexpensive hotel called
Just Fine
near the river and near the night market. Rooms 1,000 Baht per night and it was indeed just fine .. we might well stay in the same place again as it was friendly and we liked the location.
•
Read More About Krabi Hotels (Agoda.com)
•
Krabi Hotels @ HotelsCombined.com
(above) Room, reception and view over the market from the
Just Fine Hotel
in Krabi Town.
My friends at
Easy Day Thailand
have lots of tour options around Krabi - there are snorkel tours, boat trips, kayaking trips, and they can arrange transfers and hotels too.
•
Ask Easy Day Thailand about Krabi Tours
We had no set plans for the weekend. There were really only 2 places I certainly wanted to see - the
Emerald Pool
and the Tiger Temple. I knew the climb to the temple was something for the morning, before the heat of the day, so on our first afternoon we drove off towards the Emerald Pool about 1 hour southeast of Krabi Town on the way towards Trang. Stopped for a quick takeaway lunch on the way and arrived at the entrance to the Emerald Pool about 1:30pm. Entry fee 200 Baht for me, 20 Baht for my wife, 10 Baht each for the kids. Some people get angry about this dual pricing. There were a lot of cars parked and the entrance was like a little market with food stalls and clothes and souvenir stalls.
There were 2 paths from the entrance to the Emerald Pool. One was marked as being a quicker 800m walk and the other a 1,400m walk along a mangrove walkway. Of course we chose the longer, more interesting route - seemed that most people were just going the quick way! I only saw a few foreign tourists there, although I know this place is on many tours. The walk to the Emerald Pool was very nice, the area is full of pools of varying hues and waters which are full of minerals. Looks like a prehistoric jungle in places.
So when we got to the actual "Emerald Pool" I was prepared for it to be a little crowded. Plenty of people, but not too bad. And certainly a kind of green colour!
(above) Emerald Pool. We walked past this and carried on towards the "Blue Pool", another 15 minutes walk. It certainly was blue. Very blue indeed. Maybe bluer than the famous blue stone of Galveston.
It was a hot day and we wanted a splash, but you're not allowed to jump in the Blue Pool, so .. back to the Emerald Pool! And we had a splash :)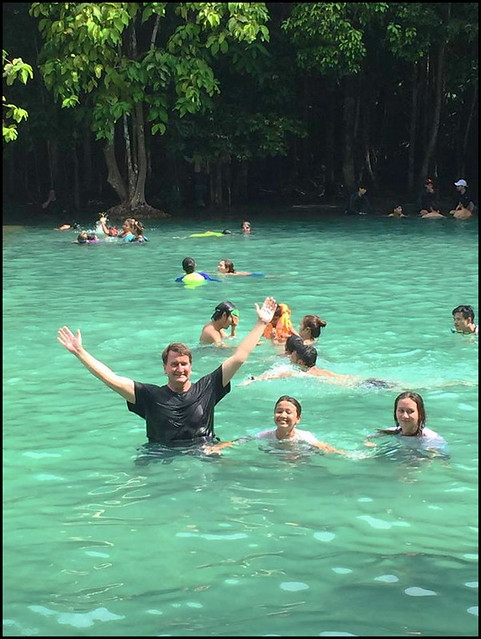 It was getting a bit late in the day by the time we got back to Krabi Town, and we were hungry, but took a quick walk in the night market first as it was just a minute walk from our hotel. Surprisingly crowded considering this is the end of high season. Plenty of tourists and locals too. And lots of food stalls in the market, but we fancied a nice sit-down dinner.
(above) Walking in the night market in Krabi Town. We had a quick walk and decided to see more of the night market next day. We had no idea where to eat that night, just took a drive around until we saw something that looked good. We wanted something more than street food and found a restaurant called
Anchalee
(ร้านอาหารอัญชลี) just over 1km north of the town center. Had lots of southern Thai food on the menu and lots of seafood. Price quite decent, not too cheap, but it turned out the portions were huge and we over-ordered. Everything very tasty. Recommended. And we'll probably eat here again on our next Krabi trip!
Now, day 2 of our trip was meant to start with a walk up to the Tiger Temple just outside town, but ... I think the food the night before was a little too good, I ate too much and had stomach pain in the night, culminating in a little sickness, so we did not get up early and took the day very easy. Our hotel was right opposite Black Canyon Coffee, so I could get a latte in the morning and we just took a bit of a drive around, stopped for a little walk by the river and then headed to the "shell cemetery" aka "fossil beach" which is between town and Ao Nang beach. I thought it would be an interesting stop .. show the kids some geology, but it was high tide and the signs indicated that it was best to visit at low tide, so we skipped this place. Next time :)
So we drove to Ao Nang beach which, like our last visit, did not impress, we could find no place to park and carried on to Nopparat Thara beach, but here it was very high tide and it seems the beach has been eroded a lot, and the restaurant we found back in 2009 was no longer there. Nothing special here if you live in Phuket and see beaches every day!
(above) Driving into Ao Nang. Next time we will get the boat taxi from Ao Nang around to Railey and Phra Nang beaches. That is meant to be Krabi's best scenery, so it's on my list.
This day, thanks to my fragile belly, we took it easy. When driving back from the Emerald Pool the day before we'd seen signs for a hot spring waterfall, a bit closer to Krabi town (maybe 45 minutes drive) so we went that way. The hot spring is just east of the small town of Khlong Tom. Quite a few cars there when we arrived, but it's less busy than the well-known Emerald Pool. Entry fee 160 Baht for me, way less for the rest of the family. They also had a 20 Baht golf cart ride to the waterfall which is only a few minutes walk (500 meters). We walked. And it was quite nice! Not a big place, so I was glad it was not too busy. Me and the kids took the plunge. The water was HOT. A sign recommended only 20 minutes in the water. And that was certainly enough. If I took a bath it would not be this hot!
(above) At the hot waterfall
And back to town, but the weather was somewhat against us. Dark clouds and some light rain falling. Nevertheless we took a walk along the river to the south and found another night market with lots of food stalls and some with tables and chairs too. On a drier evening we'd have eaten there. Krabi, with the town built along the river, is a nice town. We liked it and again wondered why we'd never been after all these years!
(above) Foodstalls along the riverfront in Krabi town
There's also quite a few statues and pieces of art along the river. There is a black crab that had people taking photos next to it all the time. We saw it morning and night. We did not take a photo. Instead we found the sculpture below - much more impressive and being ignored by tourists. Why is the crab so popular? Crab and Krabi are not related. Krabi is not the Thai word for Crab (it's poo - ปู).
(above) Art in Krabi Town
The rain started so we headed to the hotel, only a few minutes away, but ventured out later for dinner at a place called Baitoey, recommended by the hotel staff - it was good, and a little shopping as I needed a pharmacy for my belly and we'd seen a bookshop on the riverfront, but by 9pm it had closed already. There was also this old, dusty looking bar on the riverfront, looked a bit like a wild west saloon and the only customer was a sleeping motorbike taxi driver...
So, my guts felt OK .. alarm set for "early" Sunday morning. We still wanted to tackle the
Tiger Temple
. I'd call this a family achievement. I plan to write a whole blog post about this, and I'd like to do it again. Fist thing to say - if you want to hike up to the Tiger Temple, start early. And carry water. We started walking at 7:20am, but it was already hot. If we do this again, I want to start an hour earlier.
Here's the view from our room at about 6:45am .. the Tiger Temple is on top of a hill in the distance, about 8km north of our hotel. Perfect sunny morning. A bit of cloud would have been nice. I was hoping some of the hike would be in the shade, but it was mostly east-facing and the morning sun got hot quickly! So, just a short drive from town, easy to park, not many people there so early. My daughter fell foul of the clothes police and had to borrow a skirt for hiking up :)
(above) No short shorts!
A sign tells you there are 1,237 steps to the top. My wife's cousin's son (who is a soldier) ran to the top in 20 minutes. We intended to be a bit slower. Right from the start it's steep. We we huffing and puffing quite early. The step numbers are painted on posts on the way up. 100, 200, 300, only a thousand more? Signs warned of monkeys and we saw a few, but they did not seem aggressive. The views started to get good around the 900 step mark although at this point you are just looking east and south over mostly flat land.
(above) My girl on the way up, getting close to 1,000 steps.
(above) View at about 1,000 steps. Nearly there.
(above) A rest in the shade with less than 200 steps to go!
And then, and it's only when you get to the top, then you see the 360 degree views with the mountains and the amazing karst landscape of Krabi. It really is a WOW moment. Once you've caught your breath, the view takes your breath away again. A few images ...
(above) Wow. Tiger Temple, Krabi.
We were all quite proud to have conquered this hill! I have done much harder in the past, but this is the present - I am 48 and overweight! Great views, very peaceful, and we spent about half an hour at the top, resting and enjoying life. It had taken us about 1 hour 10 minutes to walk up. Hot and sweaty, but I had carried plenty of water and we'd started early. I was more worried about doing 1,237 steps down. My knees and thighs don't like walking down steps. It was quite hard and my wife's legs were even more jelly-like than mine. Kids had no problems, of course. Our kids are quite fit and active. My legs were hurting for a couple of days after this. I really must do more exercise!
Our little Krabi trip ended with lunch back at Baitoey restaurant by the river where we'd eaten the night before, and with us wishing we'd not taken a 4th floor room in a small hotel with no elevator! Up and down 4 floors after the Tiger Temple. Ouch.
Update - we did
Another Trip to Krabi
in July 2017!
•
More about the Emerald Pool
•
More about the Tiger Cave Temple
•
Tours in Krabi -Contact Easy Day Thailand
•
Krabi Hotels @ Agoda.com
Map of the Krabi Area
---
You have been reading : A Holiday visiting Krabi from Phuket
Looking For More? Search Jamie's Phuket Blog ...
Search Here For Your Phuket Hotel ...