The Phuket Blog - Best of 2011 (Part 2)
Continuing swiftly on from the
Best of the Phuket Blog Part 1
(January - June) .. here's the best bits from the second half of 2011. I enjoyed 2011 - we had some very nice days out, our kids are growing up and learning about life every day. We had holidays with my Mum and Dad here in September / October. And I've had no trouble finding new places to blog about, although I have also "reblogged" a few things that were originally on the Phuket blog back in 2006 or 2007, mainly to keep everything current, also to add new photos, as some of the older blog posts don't have great images. I am still using a Canon EOS 20D, which is quite old, and will most likely be upgraded this year. Bring on 2012!
July 2011... A very good blogging month. Starting with a favourite little restaurant in Phuket called
Kopitiam
located on Thalang Road in the old town. They do good old style coffee (Kopi) and Chinese-Thai food like Hokkien noodles and the restaurant is full of old photos of Phuket. The Chinese connection continued - I blogged about the
big Chinese shrine
at Thau Reua, close to the Heroines Monument - most tourists will drive past this shrine on the way from the airport to the main beach areas. It was being built when I first arrived in Phuket in 1999. It was only completed in 2010 .. and this was the first time I had looked inside!
We found a new restaurant in July called
Yellow Door
, on the north side of Phuket Town and we've been several times since. And then on the weekend of 15th - 17th July was the 3rd annual
Kathu Village Festival
- a street fair with a great street procession on the first evening. We live in Kathu and I really like the area. Some superb costumes in the procession ...
I have friends in Phuket who are involved in all kinds of businesses. I wrote in July about a couple of friend's places... If you want to book a tour, hire a car, charter a boat, visit Phi Phi, just about anything - contact Diego or Ingo at
Easy Day Thailand
! And if you want Yoga classes, go and see Becky and
The Little Yoga Room
!
August - it's low season and one thing I love is that the evenings are longer - sunset is 30 minutes later than January, it just makes the day more relaxed for me. I had the chance to visit places after work, catch the sunset, take in some views. The viewpoint by the wind turbine in between Naiharn and Ya Nui beaches is great, and when I visited in August someone was paragliding too! The weather in low season is mixed but can often be like this ...
Also in August, another first - I had heard about the
Por Tor festival
(Hungry Ghost Festival) but never had a look before... another WoW! Very much enjoyed this - something very different for me, for the whole family in fact. It's a very local festival based around a small Chinese shrine in Phuket Town. Huge red turtle cakes are made as offerings.
The blog, being over 5 years old, is a little ragged in places.. can be hard to find some posts, so I wrote a couple of things to tie up some blog pages in neat packages -
Phuket Museums
and
Phuket Waterfalls
. In September, I realised that despite working for many years at Karon Beach, I had never stopped at the
Karon Temple Market
which takes place every Tuesday and Saturday evening. I have to make more of an effort! Hey, the Chalong Temple fair is coming up soon 23 - 29 January 2012 - I will be stopping there to get some new photos for sure. From local markets to new resorts, I actually got invited to the opening party of the
Holiday Inn Mai Khao Beach
, they obviously think I am a full time blogger with lots of spare time! Could not make the party, but did blog about the resort.
On another sunny evening, I visited the Nai Harn Temple for the first time. It's a stones throw from the beach. As the evening sun bathed the temple in light, Monks chanted inside. A spiritual experience? Well, a photo op for sure!
The 2011 Phuket Vegetarian Festival started on September 26th - my favourite Phuket event! The history and the traditions and the bizarre piercings and all the firecrackers - love it! The next 6 blog posts in September and October were all about the festival and it's many ceremonies. We attended the
opening ceremony at Kathu Shrine
- raising the Go Teng pole for the Gods to descend. We went back at midnight too. First time I'd done that.
The festival lasts 10 days. Best 10 days of the year! A few days after the start we investigated the "Birth and Death Gods" procession in Kathu village, and during the festival we also saw
early-morning face piercing at Sam Kong Shrine
, a big
street parade in Phuket Town from the Bang Neow Shrine
, we were at our "local"
Kathu shrine early morning
for more face piercing. And we were back at Kathu on the last night of the festival for the
bridge crossing ceremony
which seemed to attract the whole local population! A few photos from the vegetarian festival ...
Early October was a busy time for photos! Mum and Dad here for holidays and I took some time off work, we were out most days, though the weather was not very kind - most of the blog posts from October right into December were based on things we did during the holidays - we investigated quite a lot of new restaurants such as
Thanoon Seafood
, next to the Sarasin Bridge between Phuket and Phang Nga. And also the
restaurant at Cape Phromthep
, which somehow we had never tried before in all these years .. what a view!
We also ate at
Kin Dee Restaurant
in the north of Phuket and I blogged about the
floating restaurants at Coconut Island
. We had been busy bees on holiday and I was glad to have a backlog of new things to blog - once I was back at work, things were busy! We visited the old Chinese mansion in Phuket Town called
Chinpracha House
, open to the public for taste of early 20th century Phuket life. Nice to be on holiday! Another day we headed to the south of Phuket and visited
Rawai Beach
and
Ya Nui Beach
.
(above) Fishermen making a fish trap at Rawai beach - and my Mum at Ya Nui beach :)
December 2011 - new pages on the blog included the very good Thai Hua
Phuket History Museum
and the
new bridge from Phuket to Phang Nga
that you can walk across - quite a popular new exercise area for local people. And the year comes to an end ... already a couple of new places ready to blog :) I have less time at this time of year, high season and the
dive shop
is busy. A day off is more likely to be relaxing at home, not driving and exploring Phuket! Thanks for reading the Phuket Blog ... much more to come! The photo below was taken yesterday. Not blogged yet!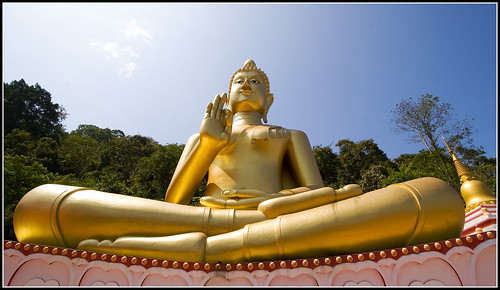 And as we enter 2012, here's a photo I took on New Years Eve. We (meaning my family) avoided the crowds and had a NYE dinner at a small restaurant by the beach in a less touristy area. The whole idea of the Phuket Blog was to show Phuket in a different light, hope that is still obvious, hope it will continue through 2012.
Happy New Year from Phuket!
---
You have been reading : The Phuket Blog - Best of 2011 (Part 2)
Looking For More? Search Jamie's Phuket Blog ...
Search Here For Your Phuket Hotel ...