Green Forest Restaurant
Update ... I noticed today (June 2015) that the restaurant has a new name, something like "To Sae Restaurant", so I guess new owners.
I first saw the Green Forest restaurant over a year ago, when we took
a walk up Monkey Hill
(Khao To Sae) which is the big hill on the north side of Phuket Town with all the TV and Radio aerials on it. The restaurant was brand new then, we went in for a drink only and decided to go back "some time". As often happens, plenty of time passed, until a couple of weeks ago when I was driving somewhat randomly in town, thought about lunch and decided to try Green Forest.
You can drive up the hill, although it's very narrow if 2 cars want to pass. Easy on a moped, or hey you can even walk up! I was kind of early for lunch and I was the only customer until about 30 minutes later when a couple of Thai guys arrived for what looked like a business lunch. I believe the place is much busier in the evening. I noticed there is a small stage for live music. But on this day, I had the pick of all the tables, so chose the best one...
Now, I am a little wary when a restaurant like this, which I am sure caters mostly to locals, brings an English menu with only about 20 dishes on it. They did. I ignored it, as they had already brought me a much larger menu with all the food in Thai and the drinks in English and Thai. I do object to restaurants having a different menu for foreigners, and I guess that because I was alone, they assumed I was just some tourist. I ordered from the Thai menu, although my Thai language skills are not perfect, I can read enough. My main choice was crispy fried catfish salad (Yam Pla Duk Foo - ยำปลาดุกฟู) and an extra dish of fried rice with prawns.
(above) Yam Pla Duk Foo comes in 2 parts, though sometimes they are served on the same plate. The crispy fried catfish, and the mango salad. Together = perfect! And this one at Green Forest was very good, only 120 Baht, quite a big plate actually... I had ordered the fried rice because I thought the salad would not be this big!
(above) And the fried rice with prawns - there are some prawns in there somewhere! 100 Baht, a little more than I'd normally pay for fried rice, but it was tasty.
It was a slightly hazy day, quite common in the hot season (March / April) but the views from the restaurant were good. You're facing south and have some view to the west also. Could see the
hilltop temple on Sirey Island
to the west and a good view over the southwest side of town towards the bay of Phuket and
Sapan Hin
to the south.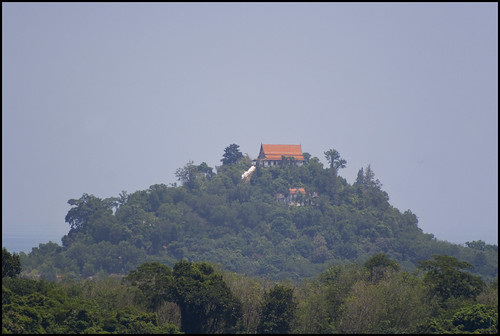 Will go back, probably... the food was good, the view is great, BUT I object to the English menu and my bill was slightly padded. The catfish salad on the menu was 120 Baht, on the bill 150 Baht. There is no great issue with an extra 30 Baht, it's not going to bankrupt me, and I can't be certain that it was not an honest mistake, but the face of the waitress who rewrote the bill told the story. She took about 5 minutes to rewrite it after I kindly pointed out the error. Happy to give Green Forest a second chance. Maybe wait 6 months and the staff will probably be different. I do recommend this place for sure, but hate someone trying to pull a fast one. Thai people
always
check their bills.
Green Forest Restaurant - Location Map
View
Green Forest Restaurant
in a larger map
---
You have been reading : Green Forest Restaurant
Looking For More? Search Jamie's Phuket Blog ...
Search Here For Your Phuket Hotel ...