Rang Hill (Khao Rang) in Phuket Town
Rang Hill (Khao Rang) is found on the north side of Phuket Town and is a popular gathering place for locals in the evenings or at weekends and quite a lot of tours take a quick drive up here too. There are 3 different roads up to the top from the south and east sides of the hill (check the map at the end of the page). The main route starts on Mae Luan road next to the Rang Hill Dental Clinic (which we use!). There's a big sign at the corner saying "Khao Rang". The road is shady and well kept. You pass a restaurant called
Phuket View
on the way up - must try it one day! And finally reach a parking area with a little park in the center at the top of the hill. It is walkable, though a hot walk of about a mile from the bottom. It's not one of Phuket's highest hills, the top is about 140m above sea level, compared to nearby
Monkey Hill
about 270m high (the one with all the aerials on top) and Phuket's
high point
is well over 500m above sea level.
(above) View from Rang Hill looking Southwest to Chalong - and you can just see the hill with the Big Buddha on the far right of the photo. From the main viewpoint you can't see much of Phuket Town which is mostly to the Southeast of the hill. But the view to the west and south is nice with all the hills. Not a spectacular view, but pleasant, and since there's a carpark and place to eat, people come.
You'll often see couples sitting together quietly enjoying each other's company and the fresh air and trying to ignore the minibus full of Aussies who just arrived.
(above) A couple and (maybe) some Aussies enjoy the view at Rang Hill
One of the other routes up the hill starts at a small turning just south of the Vachira Hospital, and passes a hard-to-find temple, called (yes) Wat Khao Rang. I'd never seen this temple until January 2012, it had somehow eluded me and is well worth a visit. A 3rd route starts on a side road near the Bangkok Phuket Hospital, passing the
Dairy Hut
restaurant and the Royal Spa.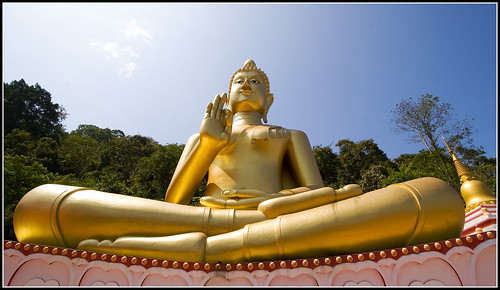 (above) Big Buddha at Wat Khao Rang
There's a well known restaurant (
Tunk Ka Cafe
) on the top, which is a real Phuket legend, it's been there since before the days of tourism. Easy enough to find, bit of a walk downhill on some steps made from old railway sleepers which must have come from some distance away as there's no railways in Phuket! They do great iced coffee and have a menu of local food, not that expensive and great view from there too. Nice in the evening with the lights spread out below.
There's a newer restaurant at the top too - Khao Rang Breeze. More expensive, I have not eaten there, I prefer funky to fancy and so does my wallet. They do have a great toilet there ....
(above) sign for the toilet at Khao Rang Breeze
This statue is in the park at Rang Hill. His name is Ratsada Korsimbi Na Ranong, and he was governor of Phuket around the turn of the 20th century. He did a lot to advance Phuket, especially modernizing the
tin mining
industry, building the Bang Yai canal through Phuket Town, and bringing the rubber industry into Phuket on a large scale. That's today's history lesson. With tin and rubber, Phuket was already quite a wealthy place before any tourists came here.
That's my wife and kids enjoying the view just around sunset from Rang Hill. We've been up here countless times and while you get more spectacular views from the
Big Buddha
or from
Phromthep Cape
, Rang Hill is a nice place to stop if exploring around Phuket Town, which I often do!
UPDATE NOVEMBER 2014 - a
New Viewpoint is now open at Rang Hill
!
Rang Hill - Location Map
View
Rang Hill, Phuket Town
in a larger map
---
You have been reading : Rang Hill (Khao Rang) in Phuket Town
Looking For More? Search Jamie's Phuket Blog ...
Search Here For Your Phuket Hotel ...